Ilpodesign
Mission & Philosophy
With its over 45 years of extensive expertise ILPO continues to be recognized as a leader company in the design, development and production of components molded in rigid and flexible polyurethane for technical and industrial uses and for furnishing with an high level of expertise and quality.

We are constantly committed to offering high quality products to an extremely varied national and international customer base and our goal is to supply faultless products capable of meeting their needs and expectations.
Ethics and Sustainable Development
"Sustainable development is a development capable of meeting the needs of the present without compromising the ability of future generations to meet their own needs"

The increased transparency requested by a better informed customer base, more interested in the protection of the environment and in health, is influencing heavily our society, addressing companies towards a new organizational model that intimately cares for the sustainability of its processes and products.

More and more often we hear people talking about Ethics and Sustainable Development, this type of development creates a relationship between the three dimensions – economic, social and environmental bonding them strictly together; this correlation thus declares that any programming intervention needs to consider this relationship and that to develop any one of these three dimensions hazardous behaviors for any of the other two should not be put in place.

Aligning to this kind of model means primarily being able to find the right balance between economical/financial interests and those connected with the environment for the common well being: since years ILPO is among those companies that have integrated with great attention the theme connected with sustainable development and that can praise on years of ethical behavior and commitment towards the environment and resources conservation.

Agreed with and encouraged by the Local Public Authority for social assistance, in specific production processes ILPO employs specially trained "disadvantaged" personnel, into appropriate working positions. Nowadays at ILPO the number of "disadvantaged" people employed is at least twice the one defined by normal obligations under national laws.

Further to that we report our commitment to ensuring a steady financial support to a non-profit-organization that, in agreement with the Province of Bologna, manages a specialized center for work-rehabilitation for people with mental and sensorial disabilities.
Ginko Akiko Keiko
Life Given a Shape design

Ginko Akiko e Keiko are elegant eye-catchers. Eclectic and intriguing, in addition to their unique style, they offer a snug and a comfortable seat. Excellent for contract and residential applications, available on swivel base. The seat upholstery is always in dark grey "melange" and for the backrest cover is available a wide range of colours.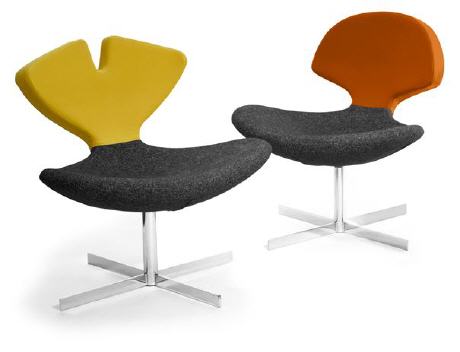 Vakanza
Vakanza is designed to furnish waiting or lounge areas that require items with a classical and traditional style. Its seat with springs makes it extremely comfortable.